Location: Whitewater Ski Area. Skin to the top of Yankee Girl.
Time: Half Day – Full Day
Difficulty: Easy
Distance: 3 km
Elevation Gain: 1500 feet
Map: 82 F/6
Avalanche Exposure: Challenging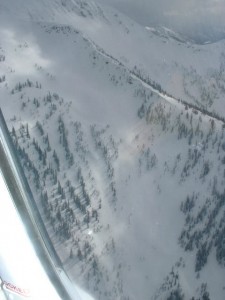 From the top of the Yankee Girl ski run proceed outside the Ski Area, zigzagging directly upwards to gain the pass ( 15-20 minutes ). The ridge is narrow and offers spectacular views into Five Mile and of Ymir Bowl/Peak. From here steep descents can be made into Five Mile Basin. To go to White Queen summit turn away from Ymir Peak and head NW ( left ) along the ridge. To climb to the summit of Half Dome climb the ridge ( right ) for awesome runs of around 1500 ft. Traversing into Ymir Bowl is also popular from mid-way on the Half Dome ascent.
The far side of Five Mile Bowl offers a further set of adventures with steep climbing, steep skiing and perfect north-west facing powder.
The best way out of Five Mile is by climbing and traversing down the valley through the trees and gaining the White Queen Ridge. Great runs from here on steep West facing slopes down to the Ski Area Access Road. The back side of White Queen is N and NE facing and has become known as Black Queen and has some of the best tree skiing around Whitewater.