The Meadow Mountain Cabin is managed under partnership agreement by the Nelson Sno-Goers and bookings can be made by going to http://nelsonsno-goers.webs.com/apps/links/ There is a $10 fee per person for overnight use of the cabin. Popular in the spring as a snowmobiling destination. Restrictions apply on snowmobiling in this area as there is a catskiing operation in the vicinity. More Information.
Also great summer hiking opportunities in the area with incredible views of the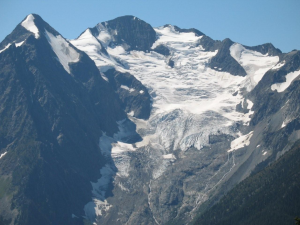 Goat Range. Paragliding from Meadow Mountain and top-landing in spring and summer incredible as well
Driving Directions:From the community of Meadow Creek, take the Meadow Creek road north for 3.1 km until you reach a fork in the road. Take the right fork onto the Meadow Mountain Forest Service Road, cross a bridge and keep to the left at all intersections until you reach kilometre 9.4. At this point take a right, and then a left at 10.3 km. For the remainder of the drive, keep right at all intersections . It's a long drive. Meadow Mountain is at 28.1 km and the cabin is at 29.0 km. A high clearance vehicle is necessary , and 4wd is recommended as there are steep rough sections on the road.